"When people ask what the best thing about my job is it's a tough call to come up with one answer! One of my favourite aspects is the wide variety of industries we get to go behind-the-scenes of, and all the cool people we get to interview. No matter what the industry, I always come away from an interview thinking I wonder what it would be like to be a surgeon / robotics engineer / financial advisor / hoarding specialist…" Amy – Head of Media at Square Daisy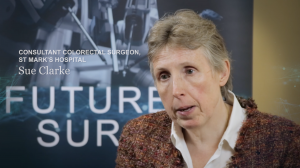 1) Surgeon
We've worked with the Royal College of Surgeons on numerous projects and interviewed so many surgeons now it was hard to choose one! I have to say they are an incredibly interesting and cool bunch of people to interview. This is Sue Clarke – Consultant Colorectal Surgeon who we interviewed for the promotional video for the Future of Surgery Conference. The conference explored advances in medicine and technology that are likely to change surgical care over the next twenty years. These topics included surgical robots, artificial intelligence, three-dimensional printing and developments in fields such as genomics, regenerative medicine and cell-based therapies. Exciting stuff.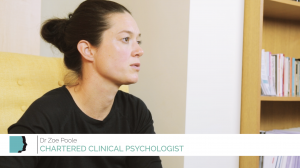 2) Clinical Psychologist
Brains are interesting aren't they? We found out a lot more about what goes on with our mental health with the clinical psychologists at Reigate Psychology Service – a small local business offering various therapies for people struggling with anxiety, depression, compulsive behaviour, relationship issues and all sorts of other problems. They wanted a promo video to promote their business and explainer videos to explain a few common problems people might be facing with their mental health. This is Dr Zoe Poole of Reigate Psychology Service.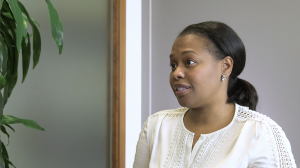 3) Lawyer
Law is a complex and wide-ranging discipline serving individuals, families and businesses through troubling times. As a result the professionals in this industry dedicate a long period of their life training and building their careers so are incredibly passionate about their work. Morrisons Solicitors are one of our valued clients and we have enjoyed interviewing many of their lovely employees. It's really nice to hear about an employer who really values their staff and during filming for a talent video for them we got to speak to lawyers of all levels from trainees, to partners and heads of department. This is Kellie Williams-Jauvel, Partner and Dispute Resolution Solicitor.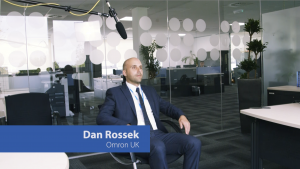 4) Robotics Manufacturer
Omron are a global company who develop and manufacture electronic products ranging from components for circuit boards to huge assembly line robots for mass production. We have filmed a number of videos for them over the years to show off their amazing facilities and demo their robots. We interviewed Dan Rossek, Regional Marketing Manager for Omron UK for their corporate video. We won't disclose whether it was easier to work with the robots or the humans…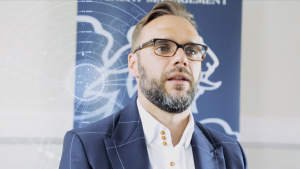 5) Financial Adviser
Jamie Calder is an associate partner of St James's Place Wealth Management and he wanted a video to reassure any potential clients that he was a friendly face they could come to for advice, and ultimately trust with their money. Jamie is a super lovely chap and prides his service and advice on his personable approach. To make sure people come away from the video feeling they know him a bit better we placed on-screen text to emphasise the poignant quotes, and cutaways to give glimpses of Jamie's interests and hobbies.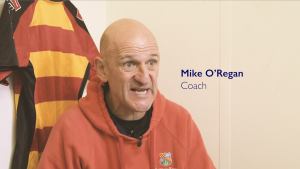 6) Mixed Ability Rugby Coach
Before we filmed at Chobham Rugby Club I didn't even know that Mixed Ability Rugby existed, but after two hours of chasing the guys around a rugby pitch and interviewing the team we were fully onboard. The Surrey Chargers are a team that train and play competitively in a discipline of rugby that welcomes all to the sport. Anyone who would normally be excluded from mainstream rugby is invited to join them, whether they have a physical disability, learning difficulty, mental health condition or even just 'too old' for other leagues. They wanted a video as part of their fundraising appeal to get the team to International Mixed Ability Rugby Tournament in Cork. Truly impressive and inspirational stuff. This is Mike O'Reagan, founder and coach of the Surrey Chargers.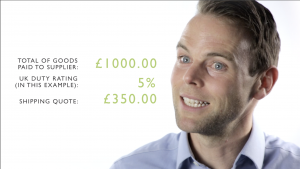 7) Sea-freight Importer
We know a lot of things are imported from China, but for most people that's where their knowledge on the matter ends. Shippo offer a sea-freight shipping service, importing goods for their clients from China to the UK. Their exceptional customer service and transparency is what makes them stand out from the crowd, and they wanted an explainer video to educate their clients on the duty and taxes they might incur on any typical shipment. We learned so much whilst filming this video! Chris Veale, Managing Director of Shippo, takes us through the calculations.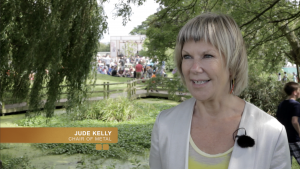 8) Festival Organiser
In non-covid-19 times, festivals are great fun. For the punters, it's all about the experience, and all that hard work that goes into planning and hosting a killer festival should be invisible. That makes the professionals in the gig industry heroes of entertainment! Our client The Backstage Academy trains students for the myriad roles that are needed for the live events and gives them opportunities to get hands on experience at real events. We filmed at a music festival in South-End where we interviewed Jude Kelly, "Chair of Metal". What a cool job title!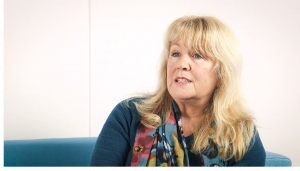 9) Hoarding Specialist
This one seems a bit niche, but interviewing Heather Matuozzo about hoarding disorders was incredibly interesting! And she was an absolute star. We interviewed Heather as part of a training video for Raven Housing Trust. As a housing association they have a duty of care for their tenants and a commitment to safe and healthy homes, and as such wanted to produce a short documentary film to raise awareness of Hoarding and to guide professionals on what kind of interventions work best.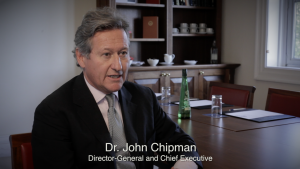 10) Director of International Defence and Security Think Tank
The International Institute for Strategic Studies or IISS are an independent think tank that specialises in international affairs. Their research provides facts, produces analysis and exerts influence across the world by bringing together heads of state and government ministers from around the globe at their annual dialogues and through their trusted publications. It's all very big and important stuff. We interviewed the Director General and Chief Executive of the IISS, John Chipman, for a promotional video.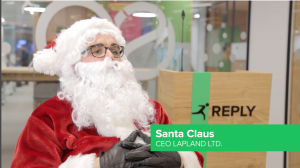 11) Santa Claus
One of the interviews where we were most start struck was when we were asked to film the big man himself – Father Christmas! One of our best clients – Reply – wanted to promote their research and development in the world of quantum computing, and who better to do a casestudy for them than Santa. They built the video into a whole marketing piece for LinkedIn explaining how Santa can use Quantum theory to improve his efficiency. It was a festive way to make potential customers aware that Reply were very much operating in this space – and we think it was pretty successful.
So there you go! Bet you didn't expect to see such a varied client base for our modest little video production agency based Redhill, Surrey? We love meeting new people and finding out more about their passion. We spend lots of time in our production process getting to understand our client's businesses so we can help them sell their service or product best. A vast range of industries can benefit from video product as part of their marketing mix – will you be on our next list of awesome interviewees?