These are trying times for almost every individual and every business.
 

Life has changed immeasurably, but we are being as innovative as we always have been in facing these challenges and overcoming them.

 

For those of us who are parents, we are adapting to our new roles as teachers and searching out fun new tools online to teach those hungry young minds.

 

As business people, the meetings continue using Skype, Zoom, FaceTime or any of the other communication tools we have access to, and as friends we are having 'drinks or the weekly pub quiz' using Houseparty in the comfort of our own lounges.
We just adapt.
The same is with our businesses and the marketing activity we do.  It isn't lost on me (Jovan) that many businesses are facing uncertainty and very difficult times, we're no different.  Looking at how to manage expenditure, continue to win business where possible and look at how we grow again when 'normality' (whatever that looks like) returns.
In hard times the first three things to get cut are marketing, training and recruitment – which leaves an opportunity for forward thinking companies to fill the void that exists with some clever video advertising – without the film crew on site obviously.
Animation as an option
As a full service production agency we also have the capability to produce animated videos all in house, we don't outsource anything but the voiceover, so we're able to help you straight away from our respective homes.  Every stage of the project through our dedicated process can be handled online – the initial brief and workshop using video conferencing, communication through e-mail, presentations of the storyboard and feedback delivered using a tool called Boords, and video transfer and commenting via Screenlight.  These tools aren't new to us, we've been streamlining our workflow for years which means we're well accustomed to it already, and it makes collaboration, feedback loops and inclusion with your and your team simple.
There are lots of different types of animation which can be delivered which is suitable for your business, with some examples of content ideas listed below.  Whatever your business, and whatever your objective, we can creatively come up with an approach that works for you and your customer base.
Scenario: restaurant that is changing to delivery of food parcels using their network of wholesale food supply.
Concept: animation highlighting the problem (lack of delivery slots from supermarkets and vulnerable people unable to leave the house) and then explaining the process of logging on to the website, completing the order form, the food being packed and delivered to your door.
Scenario:  law firm looking to help the many people who currently do not have a will or power of attorney in place to protect themselves and their families.
Concept:  character animation builds empathy by showing typical family circumstances and why it is so crucial for everyone to have a will in place (and not just at this time of dreadful health fears, but anytime).  The process of how a will is put together, what information is needed, how quickly it can be done and the benefits of having one.
Scenario: accountancy practice looking to pick up new businesses that are applying for the various government support schemes available.
Concept: A video (or perhaps two) focussing on limited companies and sole traders and explaining using a motion graphics animation the various schemes available and breaking them down in simple terms so people can get their heads around them.  A great opportunity to show how value can be added with cashflow forecasting, improving profit margins and streamlining processes to reduce costs.  For those who don't have an accountant this will be an opportune time to get one.
Scenario:  online learning platform for kids or adults to learn the curriculum or a new skill respectively.
Concept: there are millions of parents scrambling around trying to work out how to teach their kids maths and English and do fun stuff like science and creative arts, so if you have a learning platform that can help, now is the time to create some animated content on the product and flood Facebook and Instagram with it to increase sign ups for those who desperately want what you have to offer.  If you have invested in creating an online product to help people learn a new skill, for example a language, fitness or Yoga – there are quite a number of people that find themselves with some time on their hands and would welcome something to occupy that time.  An example in our portfolio of just this kind of video can be viewed here.
Scenario:  local authorities, councils and housing associations
Concept: there will no doubt be changes to some services – refuse and waste collection, non essential services, some things being moved online, planning application visits, etc, as well as information for local businesses on what support is available from the government.  Creating an animated explainer to highlight the challenges the councils face and the practical actions being taken to mitigate impact on residents can go a long way to getting people to understand, and get on board with any changes.  Like the example below:
These are just a few examples of the kind of content that can be extremely effective at this time, delivered in a different way than the more traditional approach.  Helping people in this way at this difficult time and becoming their go to source of information, support or learning can develop a high level of loyalty, standing you in good stead to be a long term supplier well after this dreadful situation has passed. 
For a law firm, a will can easily turn into conveyancing, dispute resolution and company representation as a result of the initial touchpoint at this time.
We do a whole range of animated content which you can see on our animation showreel below.
Animation Showreel 2020 from Square Daisy on Vimeo.
You can still have live footage
There is also another option which doesn't include our film crew coming to your place of business, or creating animated content.  Where suitable, you can also use the rich and varied library of stock footage along with either a voiceover or on screen text and graphics to put together an edit.  This would be a great approach for an online cooking course, construction firm looking to attract new clients when the lockdown is lifted or a travel company wanting to secure the many thousands of people who will be desperate to book a getaway when times allow.
We created a video like this for an independent travel consultant which worked brilliantly when deployed on Facebook and LinkedIn as well as a production for a tech company using a new methodology for online digital marketing and sales.
Not Just Travel – Sue Carne from Square Daisy on Vimeo.    /    Portaltech Reply Empathy Marketing from Square Daisy on Vimeo.
Don't forget there is also the ability to use pre-existing footage you may have had filmed on a prior shoot as part of a new edit.  You can take this b-roll and wrap it around a new narrative, extending the ROI of the original shoot and ensuring you have custom content to work with.
People and businesses are still buying
I mentioned at the start of the blog, it isn't lost on me that there are a great number of families that are going through very tough times – from both health and financial perspectives – as well as businesses that are being forced to 'cut their cloth'.  There are also a number of consumers – private and commercial – that are still looking to shop online, subscribe to software and services and use any down time to improve business processes and plan for the year ahead.  Try not to think that there is only one way of getting video, there are other innovative and creative options (one which we're excited to show you very soon as we're working on it now) which we can help you with right now….from our spare bedrooms, exactly where Square Daisy started nine years ago.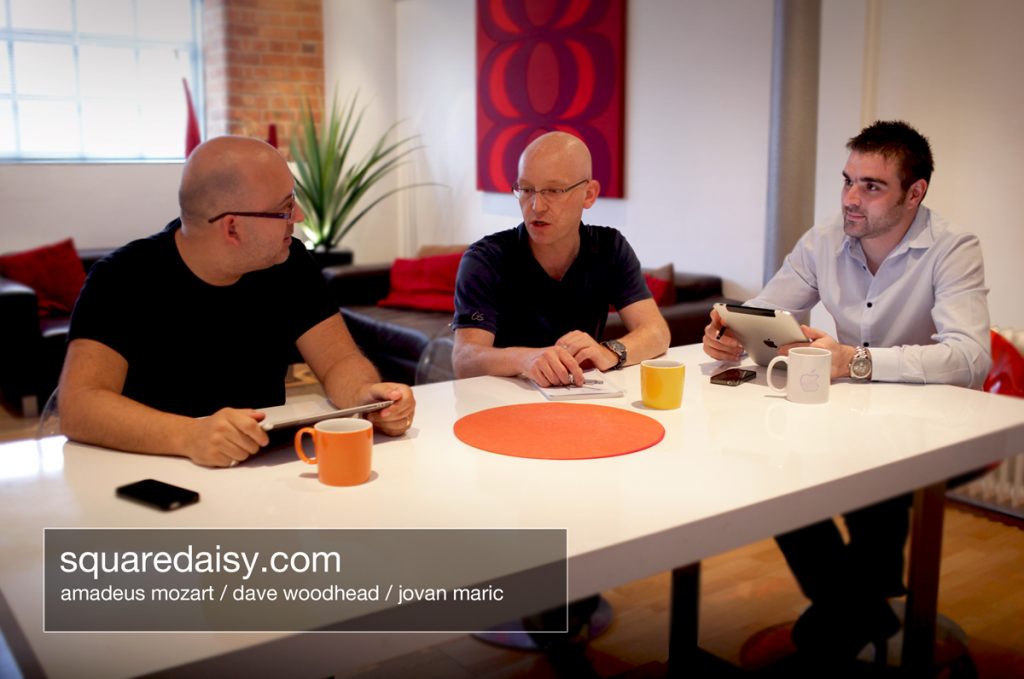 Stay safe everyone.