Video production, whether explainer videos, animated videos, corporate videos or product videos, are now really becoming a big part of the marketing mix, and rightly so – the stats are sensational.  More people engage with a website that has video, social media feeds and advertising have a much higher success rate with video and the ability to explain your proposition to customers more quickly using engaging video content is a great thing. 
But few B2B companies really use Christmas as a focal point for specific video campaigns, and we think they are missing a trick.
Here is why you should invest in video at Christmas.
01 – Take advantage of the season
So number one is to plan your Christmas video well in advance.  If you want to kick something out in late November or early December, you're going to want to start planning it out the previous year.  Why?  Because you're not going to be able to plan, shoot and edit a Christmas video in just a few days when you have the decorations up in the office, factory or warehouse, and putting the tinsel up in mid-June when the leaves are thick and green on the trees will lack authenticity (and quite frankly just be weird!)  We wrote a blog about planning the Christmas video well in advance which you can read here.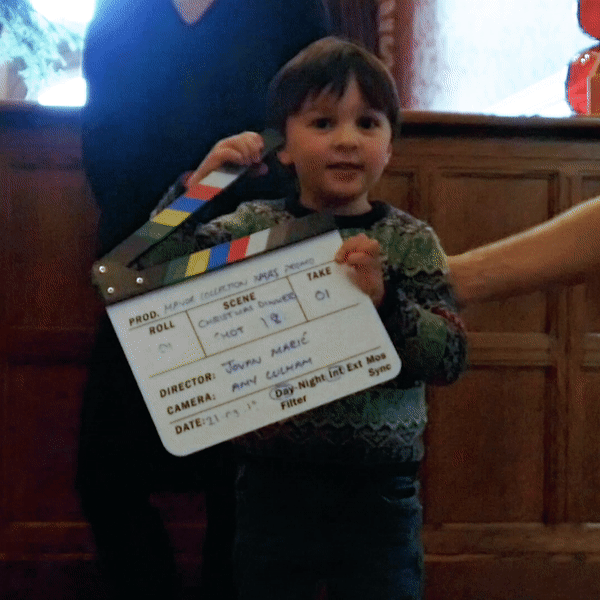 02 – Think about when you're doing it?
One of our customers is a boutique hotel group and naturally Christmas is a big deal for those guys, but there is no point in them pushing out a video in December.  All the companies have booked their Christmas party nights and families have locked down Christmas Day lunch.  They need the videos for August to capture that rush to book.  The hotels are frantically busy in December though and they don't want us in their way, so we film in the first week of January before the decorations come down and the trees are still bare.  We edit in February and everything is signed off well in advance of them needing the files.
03 – Who are you targeting?
So taking the example of the hotel group, they wanted to create a series of three videos that focussed on the core areas of their business – staying at Christmas, party nights and Christmas lunch – and getting these in front of families, Office Managers, Managing Directors and PA's was set around an aggressive social media strategy using Twitter, Linkedin, Instagram and Facebook – so videos that were created in a square aspect ratio was an obvious choice.  Each video was also under 60 seconds so it sat well within the Instagram ecosystem.
Christmas Lunch from Square Daisy on Vimeo.
04 – Be different
Another of our clients is a boutique technology company working with some of the world's leading brands.  It may be fair to say that some of the solutions they sell are very technically complex and require a staggering level of understanding of the field and technology used.  It may also be fair to say that most of the video content that competitors put out in this field can be quite dry and 'functional'.  This is particularly true of a subject like Quantum Computing!  Our client had a great idea to explain how Quantum Mechanics work using Santa and his ability to get around the world in a single night as the narrative.  The production was loads of fun, very quirky, had great engagement rates and really separated them from the competition in their ability to look at marketing in a different way.
Santa Claus and Quantum Computing from Square Daisy on Vimeo.
05 – It can be animated too!
You may not have a particularly festive workspace, or you may not really have a workspace because everyone is working remotely or on the road.  No problem, we can create an environment graphically using animated video.  It can be simple, funny, risqué, serious, sentimental or heart-warming.  Whatever the narrative is, an animated video  approach can be created to deliver it in the best way possible.  Great to use as a digital Christmas card to re-establish contact with lapsed clients or send wishes to potential new ones.
Reigate Manor: Christmas Party Promo from Square Daisy on Vimeo.
Don't miss the opportunity!
So when you're setting budgets for the next year and allocating budget to marketing, add in a line for a Christmas campaign and plan it in for next year to at least capture the footage, or with clever planning and booking an agency quickly, you can get it shot and out next November or December.   You may just want to explore what is possible – the great news is time is on your side, so why not invite us in for a coffee and chat and we'll plan Christmas next year (hopefully just before you've completely had enough of it!)
Whatever you and your team are doing this year for Christmas, myself, Amy, Jake and Phillipa would like to wish you and your families a happy, peaceful and very merry Christmas.
Jovan