"He who fails to prepare, must be prepared to fail"
A famous quote, I believe originally said by Benjamin Franklin, but also repeatedly by my parents on a frequent basis as I bumbled my way through my education.  It is exactly the same for video production. To ensure the best outcome -a brilliant video that you can use to drive traffic and leads for your product or service, you have to put the hard yards in at the start of the project. A video production schedule is key to staying on top of things.
What is a production schedule?
When we produce a 'live action video', a video that predominantly involves footage filmed with a camera, we like to know what it is that we're filming before we actually show up at the shoot locations.  This prevents us from wasting time on the day of the shoot and allows us to focus purely on getting the best content to make the best video production.  To make sure that we avoid any issues, the team all agree on and work from, a document called a production schedule, which contains all the details of the project to leave no confusion or room for error.
What sort of things are in the production schedule?
There are a number of elements in the document that if not considered can very quickly eat up a huge portion of time on a shoot, resulting in a very poor use of time and budget. The production schedule is a list of simple, straightforward things that irons out details for you.
Every location is different, but our example schedule below gives you a flavour for the kind of things that we make sure to consider:
Parking – this sounds like a really silly thing, but we have lots of kit that needs unloading and eventually re-loading. If there isn't anywhere to park or even pull up to drop off, it has a huge impact on the timings.  We may need to be assigned a space, given a pass or have to use a staff entrance, but making sure we know all these things at the outset is much better than figuring it out on the day.
Security – having a crew of people turn up with large bags is a sure fire way to get the security team's attention, and not in a good way!  We like to ensure that we have the main contact name  and all security passes and credentials sorted for when we arrive, so the security team can wave us through and we can crack on with our work. 
Prohibited Footage – there are occasions where we may need permits to film in certain areas. These must be sorted before the day of the shoot. There are also a number of locations where we need to be mindful of not capturing certain things on camera, such as new products, equipment, customer details, personnel or names of suppliers. Knowing what we can and can't film before we film it is always helpful!
Key Contacts – with any shoot, we may need to liaise with a single person, or we may need to liaise with several people. Whoever these people are to avoid any awkward delays at reception trying to find the right person to open the door we need contact names and details at hand.
Equipment Security – you can imagine that as a professional video production team we have quite a bit of kit. From cameras and lights to body-mounted steadicams and aerial drones. We don't have the manpower to carry everything around all day, so we need a space that we can securely store all the equipment we're not using. By sorting this out prior to the day, we can just show up and head straight to that space, saving valuable time and effort. 
Interviewees / models / actors – when we will be filming people, we like them to know that they are being filmed, and if they are talking to camera, that they also know what they are going to say, which has been pre-approved.  One of the biggest time-sinks on a location shoot is getting people in the right place at the right time. We try and avoid this at all costs.
Clothing and Jewellery – referring to the point above, there is a genuine consideration that needs to be taken into account with clothing, jewellery and make-up. When filming at 25 frames per second (fps) certain clothing behaves in a particular way- the best way to explain this is to show the video below.  Because of this we suggest that people being featured in the video should wear clothes with a plain thread, or bring a change with them in case there are issues with a camera test
---
Trending; Video Production Schedule, Importance of production scheduling, What is a production schedule, on Square Daisy
---
With jewellery, there is a consideration on how 'big and sparkly' any jewellery is.  As you may imagine, when we film we have quite a significant lighting rig to make the shot look as good as it can and give a highly professional output.If the jewellery is too big and shiny, then the lights reflect off the items and the interviewee starts to look like a disco ball at a Christmas party.
There can be issues on how much makeup is applied.  There is a tendency to use quite a bit of foundation on the face, but not around the neck and collar bone area, leaving a natural tone. The lights and the footage highlight this discrepancy, which makes the person look very odd indeed. In order to change the colouring on a video you need to change every single frame manually. This takes a lot of time…..like a lot of time.Therefore once the footage is captured, that's how it stays.
Scripts – when we are filming interviews we can either do it in a natural 'interview style', or alternatively we can use the teleprompter with a pre-written and pre-agreed series of soundbites.  Our ambition is always to turn up on site with these scripts already loaded in the right order to save fiddling about editing text and uploading to the autocue.
Shot list and timings – during the production meeting and storyboarding stages, we do all the work on establishing what the video will actually look like, rather than turning up on site and deciding what might be interesting to shoot and then trying to hash together a video production. We like to do things in a more professional and methodical way, which involves establishing what you want the video to achieve, who will be watching it, and therefore what messages and visuals will help to achieve the best outcomes for the video production. The production schedule includes a detailed shot list, with allocated timings so that you and your staff know when we'll be in the area and what we'll be gathering. It also allows us to manage expectations on the amount of content we can capture on the day.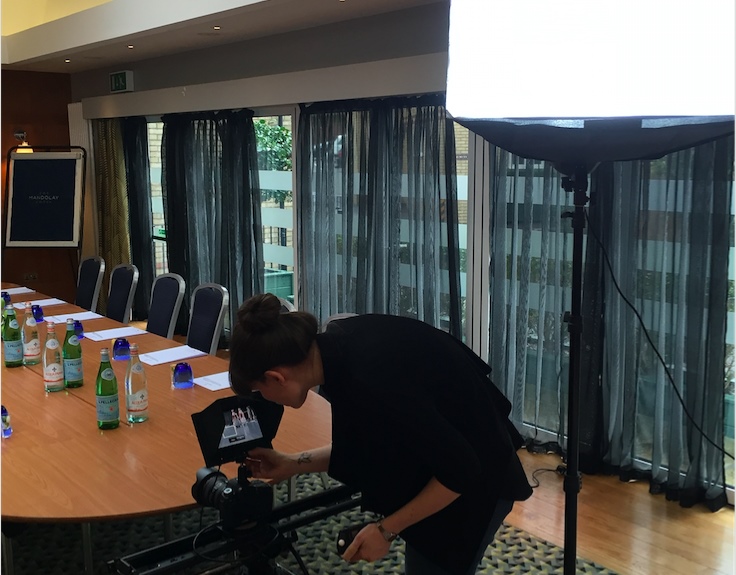 What happens if there isn't a production schedule?
Hopefully all of the above seems like common sense, so it's fairly easy to tell that without ironing out these details, huge amounts of time will be wasted on the day trying to figure things out on the move.  The footage will suffer because of a lack of preparation – both in terms of missing out on great shots and also not having things prepped and ready to shoot.  Ultimately the whole production will be poorer. For the sake of a few additional hours to establish the key points and put the document together, not only can the end product be infinitely better, but it can also save a huge amount of wasted time, resource and money.
---
Trending; film production scheduling, production schedule, production schedule example, corporate video shoot, on Square Daisy
---
If you want to find out more about our process and where the production schedule fits into it, why not have a look at our process page for live action videos.  If you have a production in mind and want to talk to a professional video production company who make sure nothing is left to chance, we'd love to talk to you.