We have a very varied client list for video production services, one of our most valued clients is a think tank, who operate globally but are headquartered in London. The International Institute of Strategic Studies, or IISS as it is more commonly known, is a huge player in the arena of Defence and Security analysis and renowned across the globe, trusted by private companies and governments to deliver independent analysis on conflict and risk across the world.
Each year they hold two flagship conferences, or dialogues as they are better known. The Shangri-La Dialogue, held this past weekend of the 3rd, 4th and 5th of June, focusses on security in the Asia Pacific region, and attracts a number of Secretaries of Defence (or Defense depending on where you are from), Admirals, Generals, policy makers and heads of state, who all come to discuss issues in the region. The other event, the Manama Dialogue held in October in Bahrain, focusses on the Middle East security issues and attracts senior military personnel along with Foreign Secretaries and the US Secretary of State.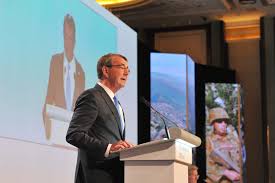 We are extremely fortunate to be the supplier who creates animated video content that is played as part of the opening keynote, based around a pre-determined theme and intended to launch the three days in a tone of good will and collaborative thinking.
The video is always played on a huge screen, with a normal HD 1080p version created to be played in the common areas and promoted through the website. The project is always challenging as we must balance high level graphics and animation, on a canvas that is truly enormous while ensuring that the content avoids a global diplomatic disaster!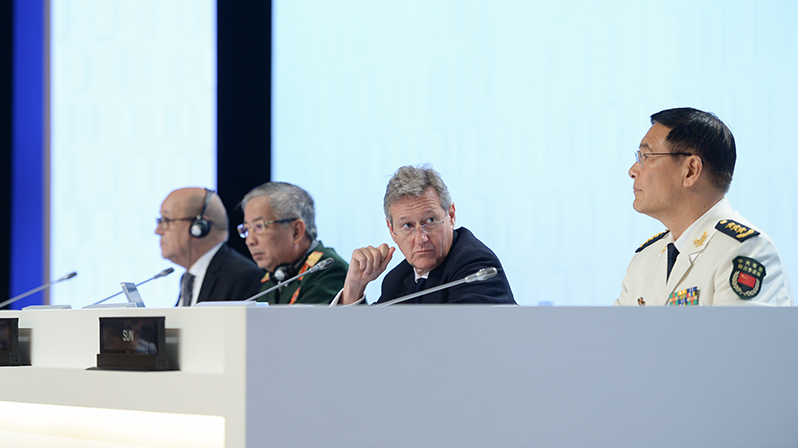 For those that know, you wouldn't want us in charge of diplomatic relations so we're grateful to the team at the IISS who make sure we avoid insulting any Prime Ministers, Naval Forces or entire nations. The animation from last year can be seen below, a celebration of 50 years of independence for Singapore. The video shows the scale of the screen, including the three projectors it is delivered from and the raised surfaces across the screen requiring us to be very precise with asset placement! Forgive the fact that no one is paying attention, it was originally played at the opening of the dialogue and this was a replay after dinner where conversation and whiskey was far more important for delegates!!!
SLD animation live from Square Daisy on Vimeo.
Video of last year's animation within the main ballroom.
This year we had to think of something new as it was our fourth year doing the Shangri-La Dialogue. The theme was a celebration of 15 years of the IISS delivering this event in Singapore and reflecting on the successes it has brought to conflict avoidance and resolution in the region along with it now positioned as a headline event that is a permanent fixture in senior military, policy making and government defence roles each year. We used a recreation of the actual Singaporean Rapid Mass Transport System (the London Underground basically) and took users on a journey through the city, using architecture found at those actual positions interspersed with key reflective information and memories from the last 15 years of the event.
Shangri-La Dialogue 2016 HD Version from Square Daisy on Vimeo.
The 2016 Shangri-La Dialogue video celebrating 15 years of the event.
So if you have a celebratory event and want to mark it in a special way with an animated video production, or any video production for that matter, we can help you out. Doesn't matter if it is a massive screen with three projectors either, we're used to that!
Photos copyrighted by and courtesy of IISS.
---