Plastfree – Behind the Scenes Video from Square Daisy on Vimeo.
Plastfree are launching a new range of 100% biodegradable period products in response to increased awareness of single-use plastics. As well as creating a product that reduces the impact of period products on the planet they also want to raise awareness of menstruation and de-stigmatise the topic for all.
Having already created a successful animated video for Plastfree, they wanted to create a headline advert to push out on their social channels and website. Their vision for the web advert was to get a diverse range of women/people who have periods in a studio set up to interact with each other, and the product.  Plus, they wanted to know that the advert was broadcast quality, in the event that they'd need a TV advert.
This doesn't sound too ambitious – but in actual fact the client wanted 6 actors across a range of diversities, and a baby! Across a two day shoot we needed to gather footage for the main headline edit, product shots and additional content for a social media campaign.
The planning stages:
1. Script
We wrote the script in house – with well over a decade of experience creating videos for businesses across a vast array of industries we are pretty solid at understanding a product or service and crafting scripts that draw the target audience in. At Square Daisy we champion feminist issues and directed our passion and enthusiasm for this subject area into the script writing process. The copy needed to be punchy, engaging and crucially, get the key value proposition and USP's across.
2. Storyboarding
This creative stage is a collaborative effort, where we take each line of the script and work out what visuals will best represent this. There's a lot of back and forth and we suggest lots of ideas before the narrative is twisted together. At this stage we consider how we can push the creative boundaries – what camera movements are possible, what framing would work best? What action should we direct the actors to perform how can we impact the video at the editing stage? What inspiration can we get from content that's already out there?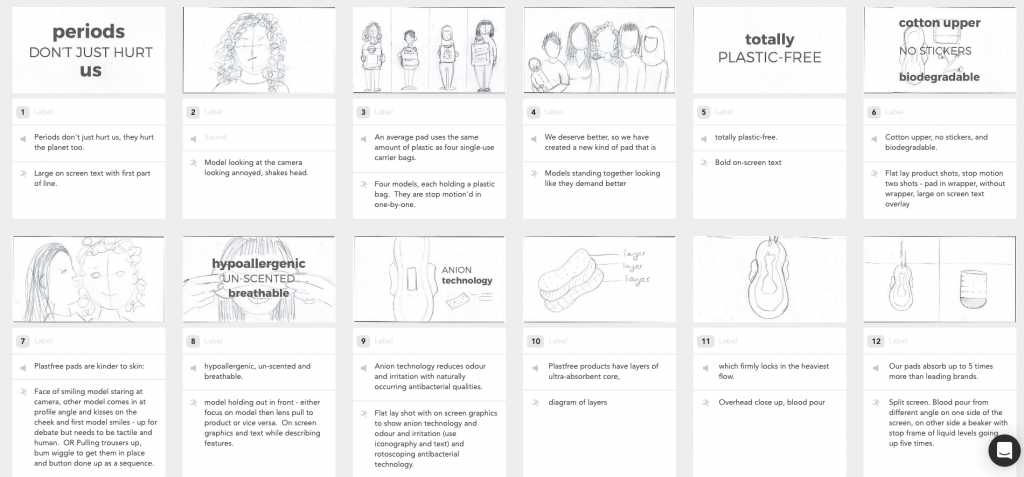 3. Casting
The easiest and most cost effective way to recruit acting talent is to head to an online talent platform. We use a site called Mandy which allows you to post a job advert, and anyone fitting the requirements you have specified is alerted. You often get hundreds of applicants which can take time to wade through, but you can filter, select and offer jobs to actors through the portal without having to hold a casting day, thus saving time and budget. You set your fee in accordance to the budget of the production and clearly advertise it in the job posting. This means that the actors who apply are informed and happy with the renumeration before they apply. We were keen to represent as many intersections as possible with the video, and opened the applications to anyone who has a period and felt they could bring their story to the campaign.
4. Location
The client's vision was to shoot in a studio set up, with multiple actors, multiple colour backdrops and costume changes. This cost of a professional studio hire can blow the budget in the first instance, so we hunted around for a space that would work for our needs. With a bit of research we happened upon Freshshoot Studios – a photography set up with a white infinity cove and multiple paper backdrops. There's a dressing room for costume changes and a communal space for the actors to relax in between takes. To transform the space from photography specialism to our videography needs we brought our own lighting rig.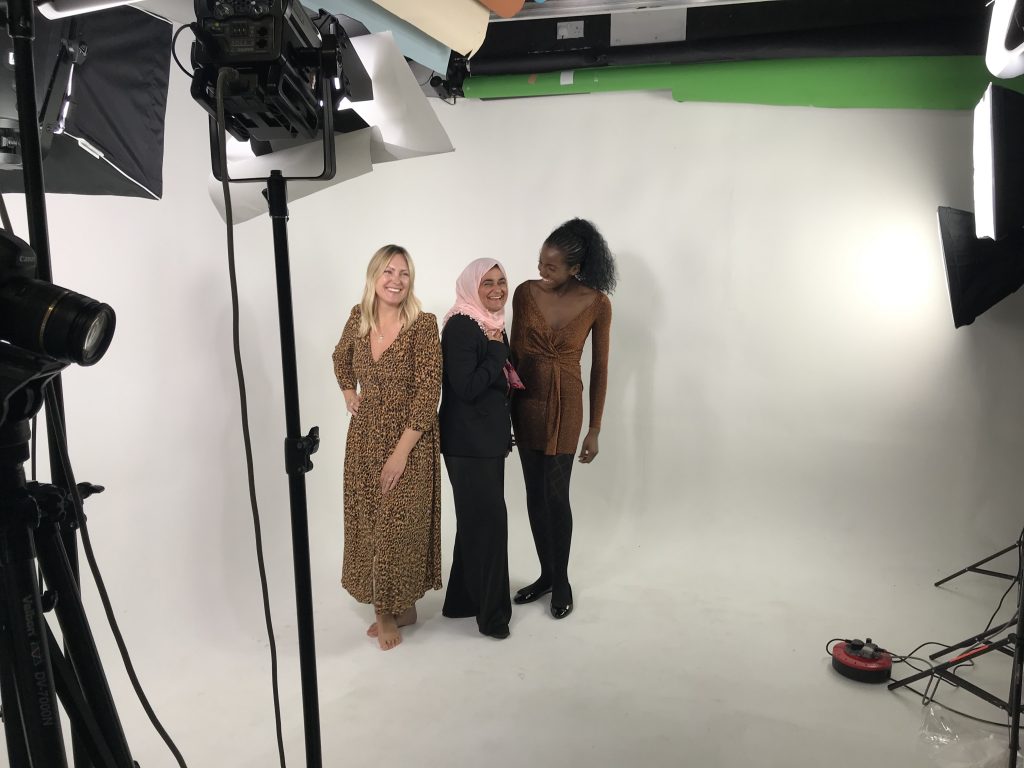 5. Props
Now that we had actors – and a location booked – we needed props. The most obvious of which were the products! We needed the full range of products, plus extras for 'bleeding' on, as well as the other elements we identified in the storyboard. Other props included plastic bags, plastic bottles, cotton branches, coloured paper and blood. Not real blood, but we did need to experiment with lots of alternatives to find a consistency and colour that translates well on-screen (all red because it is important to acknowledge that periods are natural, and don't need to be censored by blue alien liquid). To save on costume and make-up costs we reached out to our actors with a brief of the clothes we would like them to bring with them, and specified that there would not be a make-up artist on set.
6. Shot list
The shot list is a practical document which really nails down the specific details of each shot, including the camera angle, the framing, the motion, the action and the subject of everything you see on screen. It's a technical list which informs the camera operator and director exactly what happens in each shot, and makes sure nothing is missed.
7. Kit
Once we nail down the details of the shots we can work out what kit we need to deliver. We established we needed more lighting to light the actors and backgrounds, a broadcast quality video recorder and a jib in order to achieve the overhead flat-lay shots. Hiring additional kit is a cost-effective way to boost your production value without spending thousands on new kit. We took so much kit with us we really tested our Tetris skills when packing the truck!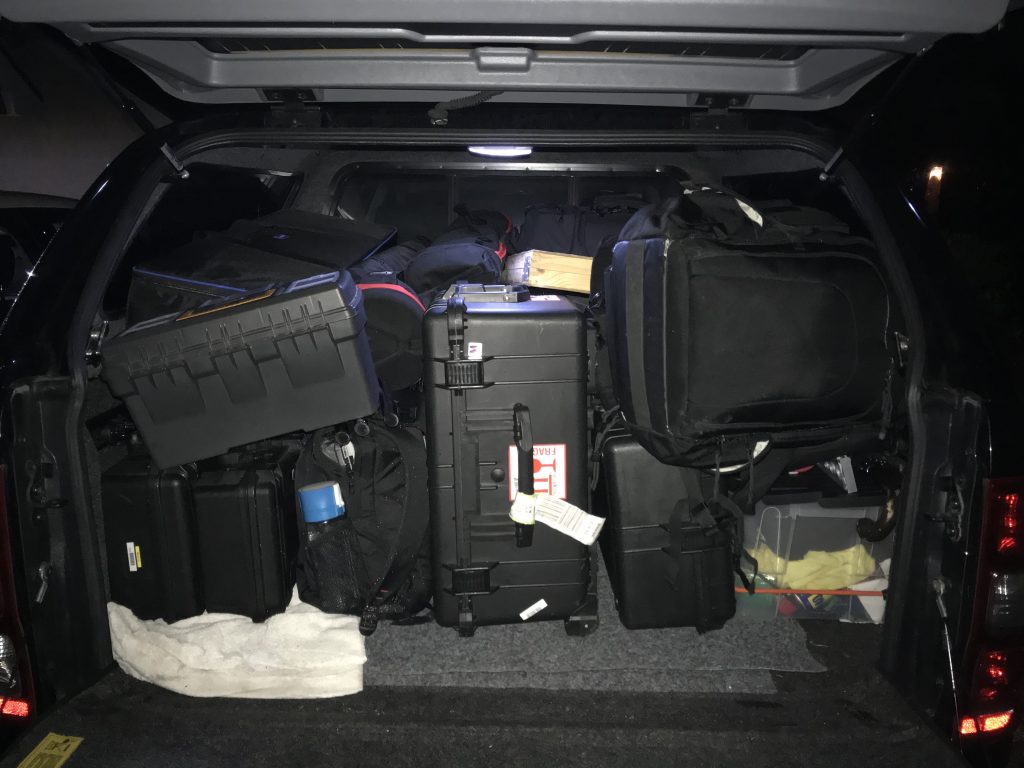 8. Production Schedule
The final, crucial aspect of pre-production is the production schedule. This document is for everyone who is on set outlining the overall running of the shoot. With 3 members of crew, 6 actors, a baby and a photographer it's really important that everyone is on the same page. We ensured we planned enough time for costume changes in between takes, and planned the shots with baby Robyn in a way that allowed for feeding, naps and changes! The broader details include the logistics, and contact information. More granular details include the minute-by-minute timings to keep on schedule, putting the shot list into the order it is recorded and shot-by-shot costume requirements.
The Shoot
Even with meticulous planning and the best will in the world, there will always be hiccups on the day of the shoot so it's important to be adaptable.  Troubleshooting technical considerations can sometimes only be addressed in the moment when everything is set up, especially when working with hired kit in an unfamiliar setting. Sometimes getting the perfect shot takes longer than anticipated, and sometimes you have to shuffle the order around in order to accommodate a (very cute) 3 month old baby who needs a cuddle or a feed! Ultimately, working with professionals – both crew and talent – means that you can rely on everyone on set. As tempting as it might be to cut costs by calling in favours and using your mates as actors this can massively impact the smooth running of the day and the quality of the final output. The key to keeping your video production on budget is being able to rely on your crew with absolute certainty, as this will ensure everyone is pulling their weight.
The Final Video
The final production is something we are incredibly proud of, and the client was over the moon. It was a truly empowering experience to work with so many incredible women on a product that will hopefully change the plastic footprint of menstruation, period. Have a watch for yourself!
Plastfree Pads – Biodegradable Period Care Web Advert from Square Daisy on Vimeo.
You can watch the original animated version below: