Over the years, we've used all different online video solutions to share work-in-progress projects with our clients.
All have had varying levels of efficacy and often heavily rely on the client to formulate cohesive feedback. This isn't fair as we don't expect our clients to be able speak the language of film, and while we have provided guidance on how to give useful feedback, it's not uncommon for a miscommunication to occur when describing video!
Previously we've tried Youtube, Vimeo, Wistia, and WeTransfer for sharing client videos, and each have different pitfalls. You know why? Because they're not specifically engineered for sharing work-in-progress videos for review, feedback and collaboration.
YouTube has the benefit of being well-known, but an Unlisted share link is as secure as the privacy settings stretch to. Vimeo is good because it is familiar and has the option to password protect. Wistia is great too as it's purely a hosting platform and not browsable. Where all three of these fall down is that the client has to compile feedback somewhere else, on a note pad, an email, or word document.
WeTransfer, whilst a brilliant service for file transfer as you can deliver the work to the client. They download the video rather than just being able to view it online. However, by its nature, it shares the same problems as Youtube, Vimeo and Wistia for compiling feedback.
So what's our solution? We found Screenlight!
Their video hosting service has been a life-saver for us. The workflow is designed entirely around review and approval. The cloud video collaboration service provides a platform for videos to be uploaded to, played, reviewed, commented on, shared, downloaded and so much more.
Why we love ScreenLight
You comment right on the video timeline. Like, right on it. As well as text comments, you can even use a pen and circle something on the video. They are signified by little location markers along the timeline, and appear with time-codes on the right so there is no ambiguity about what is being talked about. 
Sharing is a breeze. Once a video is uploaded we can create as many share links as we want, all with different permissions, to send to different audiences. For example, you can decide if viewers can add comments, see other people's comments, or download files. You have the option to set a password and an expiry date on the link to keep things nice and neat. When viewers follow the link, they enter their name so messages don't get muddled. This means you can collect feedback from a whole team.
Uploading is fast. This doesn't really interest the client but it sure makes our life easier! The encoding and processing is much speedier (in our experience) than either Vimeo or YouTube.
Downloading is a dream. We can now deliver video through our review platform rather than cobbling together several services and hoping our clients are tech savvy. You download full size, uncompromised master files, right from the page you have been reviewing the video from!
It is so easy to use. We promise, it's simple, intuitive and straight-forward. The play/pause button is big and central, the skip forward and backward buttons move frame-by-frame. When you want to comment, you just click in the box and start typing, and the video will pause automatically! You can use it on any device without degradation, meaning clients don't have to have specific kit to use it.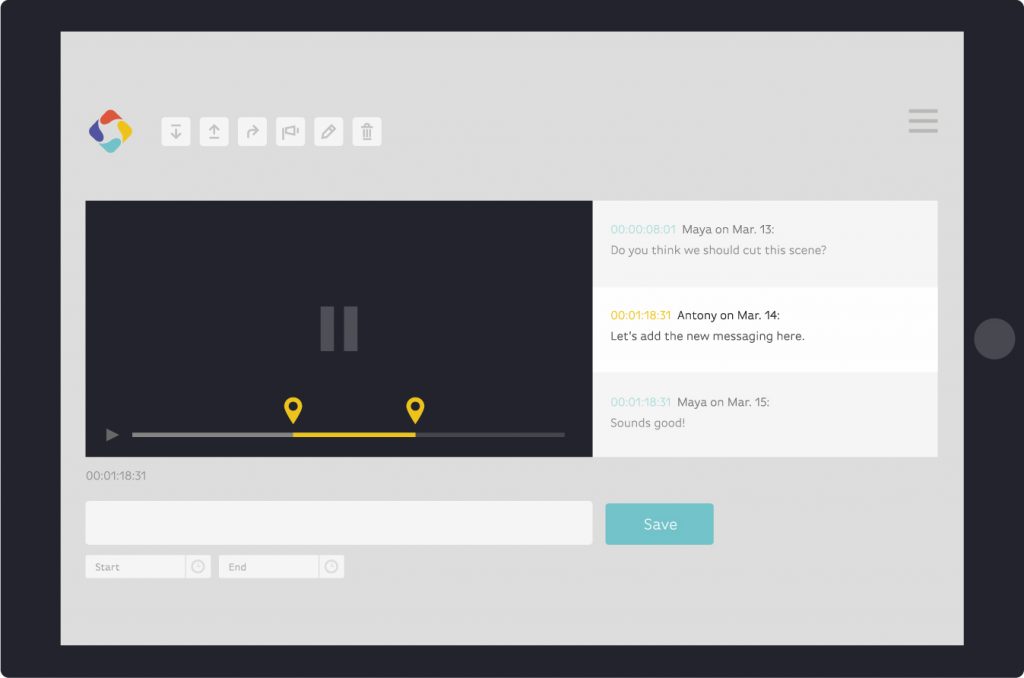 Why are we telling you this?
Whether or not you are a Creative, if you're paying good money for a service, you'll want to make sure it's right. Our robust process doesn't set our clients up for surprises or disappointment, but we understand the need for feedback and review to make sure everyone is happy with the end result.
Anyone coming to Square Daisy for a video should be comforted by the ease and efficiency of feedback, and timely completion that ScreenLight provides.
---
---
5 out of 5 stars