Lots of organisations hold both free and paid conferences, and events on a regular basis. The trick is always convincing people to attend.
Usually this involves one of two problems- You can't get enough people there or the event is oversubscribed. Both present their own challenges. Not being able to attract enough people can usually have something to do with location, time, cost, logistics or quality of content. If you invest in the facilities and the speakers the event will lose money. The second issue is equally perplexing – too much interest. Do you try and go bigger next year to get more people involved? But what about those that missed it this year, will they find somewhere else to go? Will they miss important information? Do you put prices up and make it cost prohibitive for others? How about approaching this from another angle – get people in the room without them physically being 'in the room'. How? Live Streaming.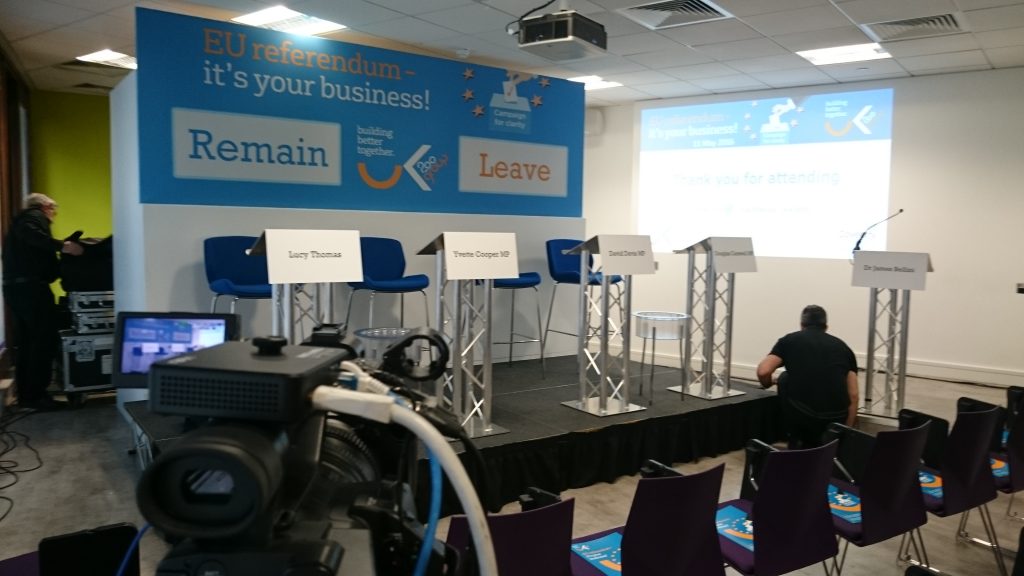 The view from the primary streaming camera during stage setup
Recently, we live streamed an event that was hosted by the UK200Group – a membership association of Chartered Accountants and Lawyers. They currently have a 'Campaign for Clarity' surrounding the EU Referendum and wanted to hold a debate for their members with an emphasis on SMEs. They recruited high profile MPs Yvette Cooper, Douglas Carswell and David Davis, as well as Lucy Thomas (Deputy Director for Britain Stronger in Europe). They have members all across the country, and whilst they had the capacity  for 100 guests,they felt it was important that all of their members should be able to watch. We streamed the event live, enabling a much broader audience to participate, and raising the profile of the UK200 Group and their Campaign for Clarity.
The footage from the actual live stream

How we live stream events on a budget.
First things first, you need a dedicated video camera, and a YouTube account to stream to. We use a VidiU unit to enable the YouTube account to communicate with the camera is. This is a wireless video transmission system which uses the camera as a viewfinder and encodes the data into a video output that can be watched online.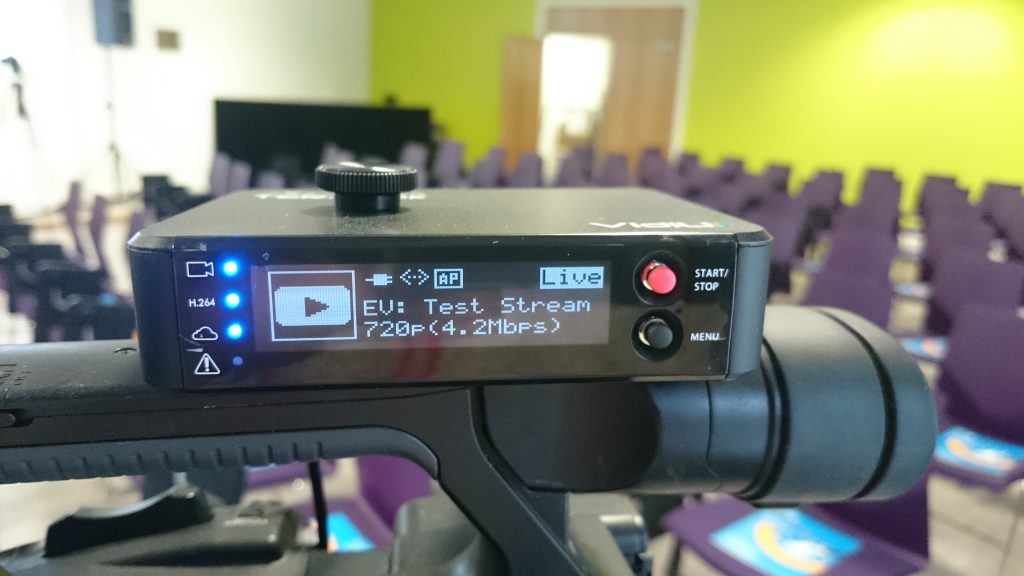 ---
Trending; corporate video london, corporate video production london, corporate video production company london, on Square Daisy
---
The VidiU unit mounted on top of the main streaming camera
We set an event up on the client's YouTube account and linked it to the VidiU unit, including the time it started, finished and who could watch it. It's best to have the stream start before the event begins as you can't control live events once they are set and there is a risk you could miss something if there is an early start to proceedings! You can just mute the sound or put up a placeholder screen if you don't want people to see the 'milling about bit',to keep the magic of the event alive.
The VidiU needs to have an internet connection, preferably wired – as the quality of the stream depends on the connection and we all know what WiFi can be like at the best of times. We then establish if there's any firewalls on the network we're connected to as it can interfere with the stream. When the YouTube account has been synced with the VidiU, the events on that account will appear on the device, and we select the event we want to stream to. The device, and YouTube, have a useful 'preview' tool which means you can test bandwidth, audio, and the quality of the stream before you hit the red button and go live!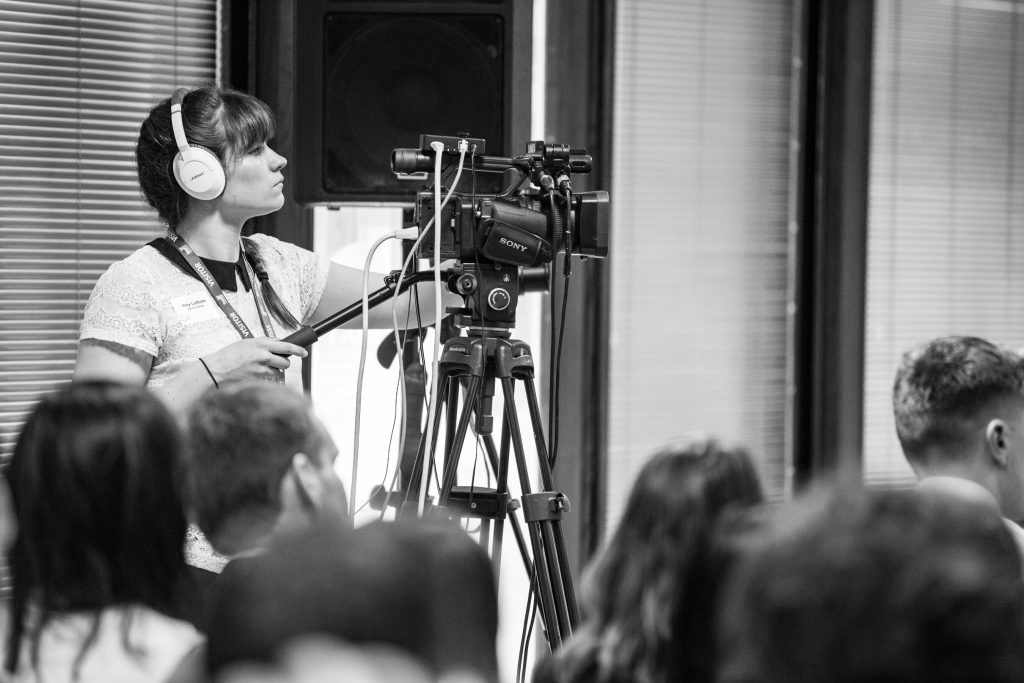 Amy Lulham, Head of Media at Square Daisy concentrating on the filming.
The production quality is great on the live stream and follow up edit.
The nature of live video coverage means that the camera work has to be very safe – wide angle shots and gentle camera movements are characteristics that you'll be familiar with from watching live television. This is so that the camera operator doesn't miss anything, and if they do need need to re-frame the shot the camera movement isn't jerky or jarring for the viewer. Professional live broadcasters will often use a multi-camera set-up so they can cut between a number of safe shots, enabling them to edit live and minimise jarring camera movement. This can be a complex and expensive set-up which often requires a large and specialist crew, which is mostly unattainable for smaller enterprises, however there are more accessible options for those on a tighter budget, like those Square Daisy provides.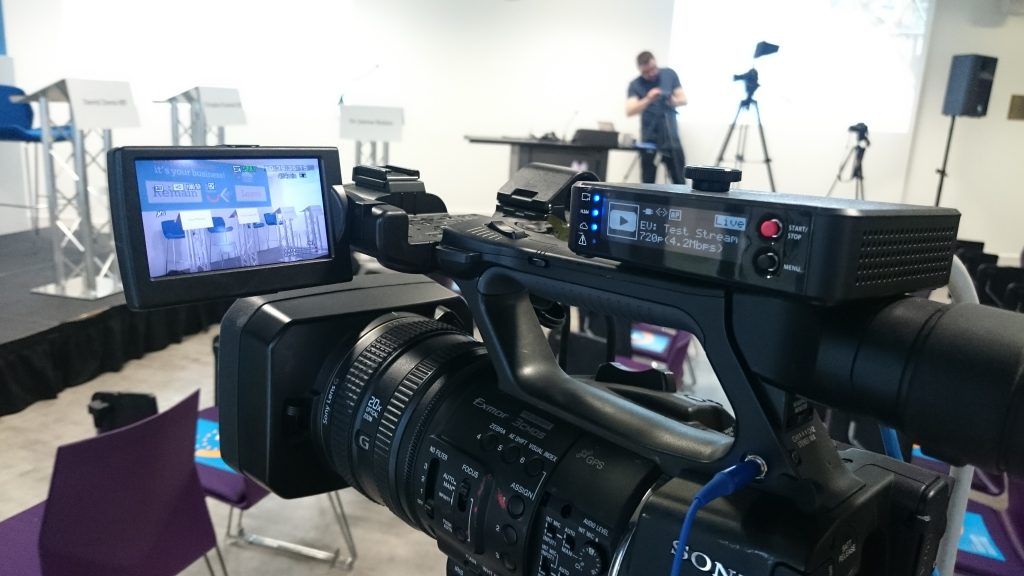 Even on a tight budget the equipment and expertise is available to live stream events.
Although Square Daisy only stream from one camera, we are able to film the event with a multi-camera set up; enabling us to capture more diverse and engaging footage. This also keeps the crew and kit requirements much more modest and manageable. During the live event people see the feed from a single camera (or more if budget allows), and as soon as the event finishes YouTube automatically renders the footage that was taken so it is able to be accessed within minutes on that same link. That way if people miss the event, they can still watch it shortly after it finishes. However because we take multiple cameras, within a couple of days we take all the footage and edit a much slicker and easily viewed version that the client sends out as a follow up to extend the reach and impact of the event far beyond the day itself.
Secondary video with footage from four cameras and additional post production.
Don't worry, it won't make people stay at home and watch for free.
Let's be honest, most people will always choose to be at a live event because they want to see speakers live, meet people to network, or tie it in with other business. However there are often reasons why people genuinely can't attend, even though they would love to. By live streaming you not only ensure more people can access the event, but you can also raise more revenues by selling reduced fees to access the content. Although YouTube Live doesn't currently offer a paywall for live events, there are other dedicated companies that do. If you have an event space for 300 people but you regularly get 600 requests for tickets, you can now offer those that missed out a chance to be part of it. Therefore you make money, and the chances are that you'll get others who wouldn't ever be able to make the event in person signing up to see it. You can even branch out to a target audience globally, engage more people and make more money. What a solution!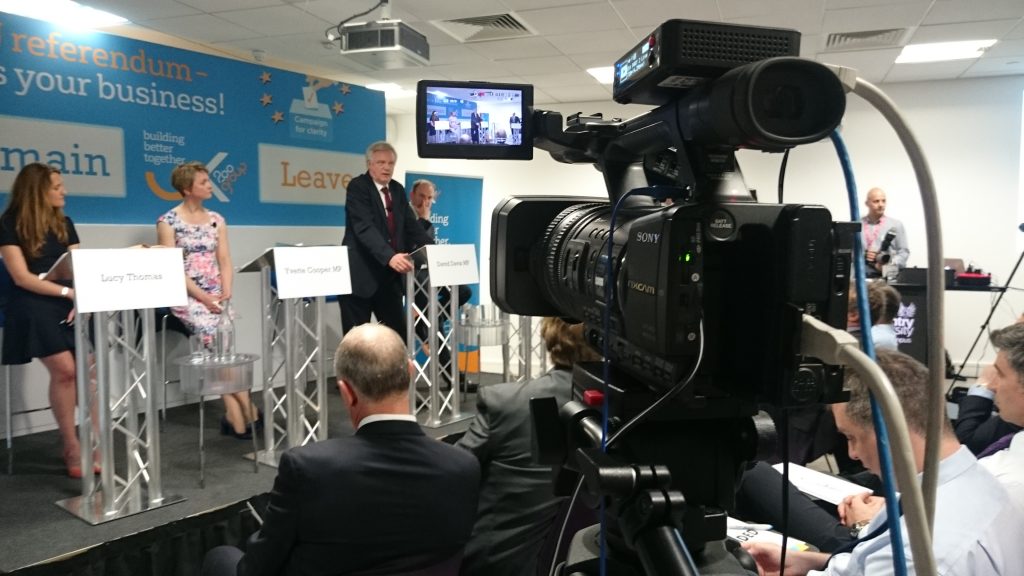 The panel in full flow.
If you have an event or conference and want to discuss how to live stream without using a huge dedicated live events company that will break the bank, why not have a conversation with us about some of our past events. We can help you to maximise the impact of yours.
To Contact Square Daisy for Corporate Video Production London…
Phone
Address
Square Daisy
24

ratings.
out of 5 based on
24

user reviews:
...