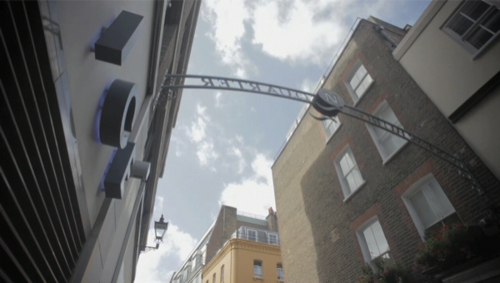 Our client advised that traveling on the tube is their easiest access so we slimmed down equipment to an absolute minimum, squeezing it into four bags. With a two man crew moving between trains and tube stops this was our limit as packhorses. We used a Kata camera rucksack for the lenses and slider head, and Sachtler tripod bag with both the tripod and a dismantled slider in it. Third bag was a classic Billingham with 5DmkII body, a few prime lenses, cleaning kit and an iPad. Finally our Cinebags Camera Daddy bag was packed with a Redrock handheld grip. This one proved too wide to carry through the turnstiles of the underground, and we eventually learnt that the wheelchair access gate was the one for us!
Having done a reccee at the location we knew the interior scenes have loads of big windows on two sides so I planned the lighting around what nature gave us, taking along just a single hard light source that I could sculpt when a composition needed it. The Dedolight DLH4 is our favorite for this task: small head, focusable beam, compact barn doors, dimmable, and best of all packs down really small. I chose to run it tungsten without colour correction gels, with the camera set to daylight white balance. The result being a flattering golden accent light that really enhances skin tone on the shots where it was used as a rim light.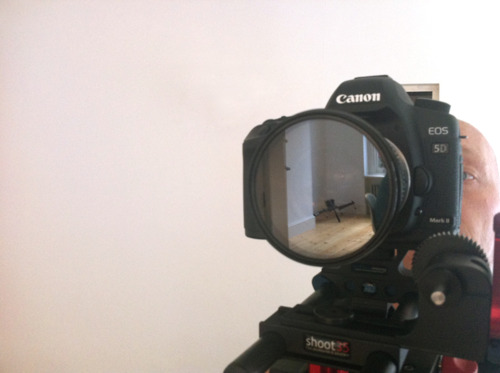 The brief for this commission didn't require any talking heads and the edit was storyboarded to a piece of music we were making, so gladly we left our sound gear behind. If we'd needed sound or a fuller lighting rig then a third crew member would have come along to get us there with arms the same length as when we set off.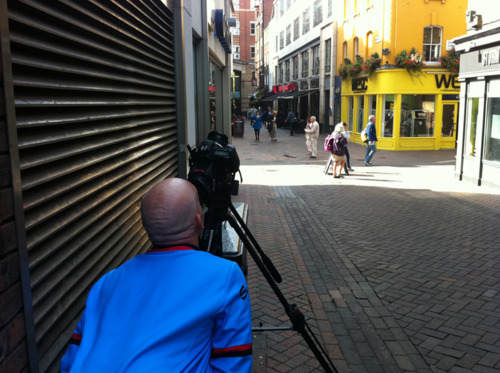 We recorded one timelapse sequence of the exterior of the company headquarters on Carnaby Street. The weather was kind to us with lots of small clouds against a bright blue sky and a strong wind. The clouds whizzed past over the fifteen minutes it took to record 300 frames, and the sharp shadows are flickering on and off giving dramatic changes within the shot. The lens used here was 18mm Nikkor prime allowing us to get the whole of the building in frame from just across the street. The intervalometer used was Meike MKMC36, calculations of how long to shoot the correct number of frames for the edit was done using a great iPhone app called Timelapse Helper.
Many of the interior shots were planned around using subtle camera movement to add dynamics into scenes where the talent are sat at tables or computers. The Sachtler FSB8 tripod has a great fluid head for controlling pan and tilt moves. Our other essential tool in the motion control arsenal is Glidetrack's HD slider. A different aesthetic has become affordable in the last few years since DSLR cameras stormed into video production. Previously tracking shots for shoulder mounted heavy cameras required laying tracks and running a tripod along them, or sitting on a dolly and being pushed along tracks while riding on a stool – time consuming to rig and manpower heavy. This is why you used to see tracking shots only in high end drama or the movies. When we shoot video on DSLR we can now achieve a short tracking shot with a lightweight slider that packs down smaller than a tripod. It's so important as a smoothly controlled camera motion adds production value to a scene, brings it to life, and because of parallax the image recorded gains depth. So when packing down our kit to the bare minimum for this shoot I knew we just had to take that slider.