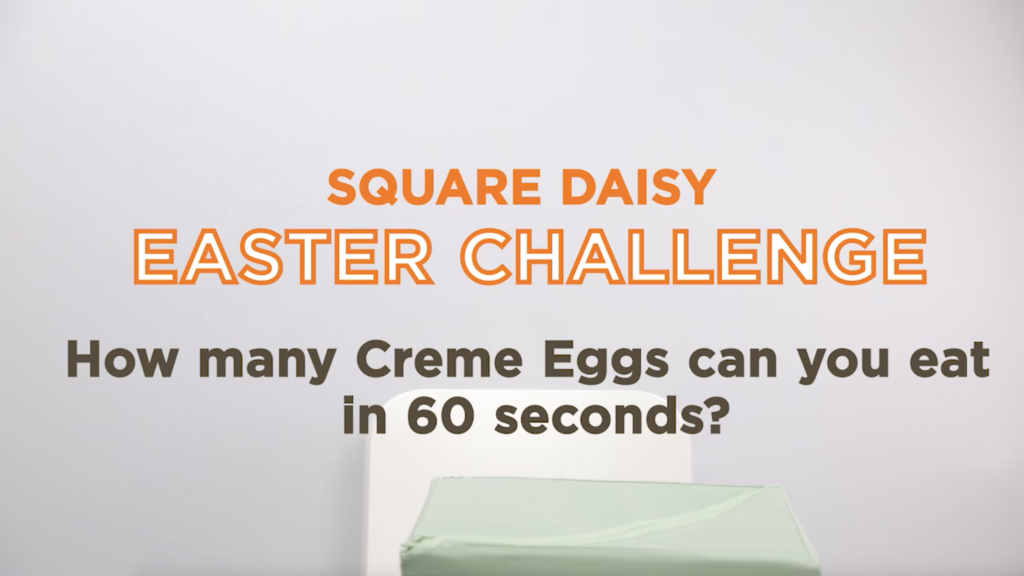 There are lots of opportunities throughout the year where you can leverage the time of year to shape a marketing message.  Companies have been doing it for years – weight loss products, barbecues and clothing for summer, oversized chocolate eggs and short breaks at Easter and a whole bunch of roses, expensive meals and confectionary on Valentines day.  There is no reason why you can't use some of these times of year to have a little fun and make your brand a little more accessible.
A couple of years ago, we decided to do something a little bit light-hearted for Easter and film an in-house competition which was, to be truthful…..awful.  If you've ever tried to eat several Cadbury's Creme Eggs in a minute (not sure why any normal person would have tried this) it is WAY more difficult than it looked.  You can see how it all turned out below:
Square Daisy Easter Challenge from Square Daisy on Vimeo.
 Is it just fun or a good business decision?
Absolutely the right question to ask.  For us, we got lots of traction from it on Twitter, Facebook and LinkedIn particularly.  The watch-through rates were really high because it wasn't trying to sell anyone anything, it was just a light-hearted production to bring a smile to the face.  But actually what we were trying to achieve was:
Give people a sense that we were a nice business to work with and liked to have fun
We were creative in our approach to video production
Our production values were high and the way we structured an edit was more innovative than other agencies
We were able to apply some simple, but nice on screen graphics to enhance the viewer enjoyment and understanding
As a result we picked up several meetings and can directly attribute over £15K of business to the 'campaign' which is a great ROI for a coupe of days of work (and a stomach ache!)
Admittedly smaller companies are not going to attribute their budget to this kind of thing delivered professionally, it would be more sensible for them to invest that money into a corporate video production or an animated video, but larger companies with more flexible marketing budgets and more creative methods of disseminating it could really benefit from this kind of PR activity.  There is absolutely no reason that small businesses and single person businesses can't do this kind of thing using a smartphone and some simple editing facility, like iMovie though.  We can almost guarantee no one else in your space will be doing it so it could be a phenomenal differentiator.
Other suggestions?
We wrote a blog on seasonal videos a while back which you can read here, but there are a number of examples yes.  Christmas is our most popular time of year by far, and below are two examples of how you can have a little fun with a message at Christmas.  The first example is a video for Data Reply, a global tech firm based in London, who recorded sensational engagement metrics and as a result have commissioned a second video from us which is more of an animated explainer video, but they are great tools to get in front of people and show them a different side of your organisation.
Have a great Easter break everyone, let us know if you want to have some fun with an Easter video in 12 months time…….but get in touch in January so we have time to make it for you!
---
Square Daisy
25

ratings.
out of 5 based on
25

user reviews:
...